DJ Booth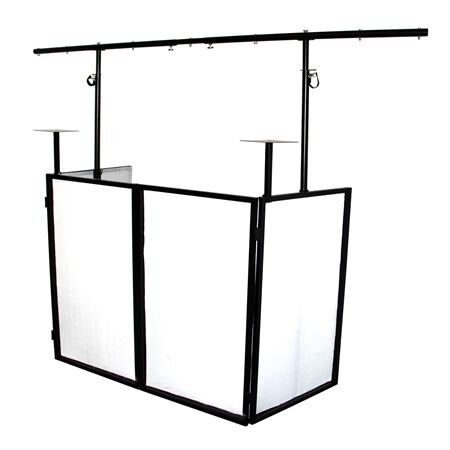 | Single Day | Two Day Rental |
| --- | --- |
| $100.00 | $140.00 |
Description
Novopro SDX V2 DJ Booth Features
2 x carpet covered wooden shelves: W:24" D:18.8" H:0.6" (each shelf)

Main shelf / working height from floor: 39"

The side panel angles are adjustable from 90 to 145+ degrees

The net weight of the complete system is 62lbs and easily supports 66lbs+ on the top bar and also 66lbs+ of evenly distributed weight on the main shelves.

There are a full range of brackets and other accessories available, so the SDX booth can be customized to your individual requirements.

The Novopro SDX booth is designed and engineered in the UK by working performers.
Thanks to the innovative design features, the booth is fully adjustable in height from 5.9ft to 7.9ft and width from 4.6ft to nearly 6.6ft.

The package is supplied with everything required for the initial setup. The versatile SDX booth will then be easy to assemble at your next gig. It comes supplied with two free zippered carry bags, making the complete system easily transportable.

We found that alternative products in the market had a working height that was too low and uncomfortable in use, so we have made the shelf height just over 39" from the ground making the unit much more practical in use. The whole unit is adjustable in width and side panel angles with the unique sliding shelf support system, which maintains a stable platform for the SDX DJ booth. Two rugged, carpet finished boards are supplied to fit upon the width adjustable cross bars, giving a working area of 48" wide x 19" deep.

There are no less than 11 fixture mounting points on the top of the lighting bar and the mounting bolts come supplied with the unit. The top bar can be split into 2 x T bars or one continuous bar.

The white scrim panels allow for rear projection of a lighting effect to give you a professional presentation for your clients at your venue. The 4 x white elasticated material panels are attached by the stitched velcro strips and are made from machine washable and flame retardant material.