Bounce House Rentals In Smithfield, RI
We Deliver High-Quality Bounce House Rentals to the Smithfield, Rhode Island Area
Why Choose Us For Bounce House Rentals in Smithfield, Rhode Island
Come check out our huge category of
bounce house rentals
in
Smithfield
for enjoying the next party you have in mind! My Cousin Vinny's Rentals has always provided outstanding service in Rhode Island all while prospering in delivering high-quality inflatable bounce house rentals in Smithfield. You won't find the quality of service and work that we provide all over the Smithfield area. Our wide selection of bouncy houses in Smithfield for sure proves that we're the best around. They'll definitely provide the best entertainment for 3-year-old kids and older and also events such as backyard parties, family reunions, corporate events, and even school field days! Whenever you're looking to throw the best party on the block or just looking to keep the kids busy, call us to rent the most fun and exciting bouncy houses in Smithfield, RI.
My Cousin Vinny's rentals has the latest
bounce house rentals
in Smithfield with the widest variety of themes and colors for your kids' party! Check out our selection and book an exciting time online with an affordable bounce house rental in Smithfield. No matter what type of bounce house you're looking for, whether it's an inflatable castle, bouncy castles, inflatable water slides, and more, we've got them all for you and your kids! They all mean a lot of fun and excitement for kids so we make sure we have the ones that they'll want to spend hours laughing with their family and friends.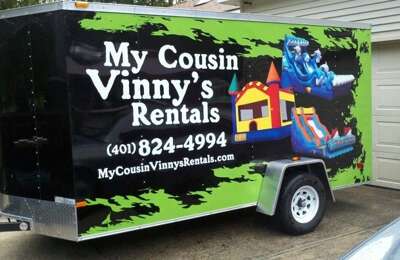 Organizing a party can be stressful at times. That's where we step in! We're the most trusted provider of bounce houses in
Smithfield
and our reviews can back us up on that. Not only do we focus on providing exciting inflatable houses in Smithfield for kids of all ages, but we also provide customer safety and we make sure that our number 1 priority is customer satisfaction. Each and every one of our bounce house rentals in Smithfield is fully sanitized and inspected before and after every time someone rents them out. Want to add even more excitement to your kids' party? Pair a water slide with any of our bouncy houses that we have in stock!
It's true that you can rent any of our
bouncy houses
in Smithfield, but are you looking for something more than bounce? We have plenty of combo bouncers too! With all the types of themes and colors you might be looking for! These types of combo bouncy houses feature an even larger bouncing area which means even more fun for kids! Others come with basketball hoops, obstacle courses, and slides! And they're even more exciting than ever! Our bouncy houses in Smithfield can serve any type of event or party that you're planning to throw soon, so make sure you call us at 401-824-4994 if you have any further questions.
Why We're The Best Choice For Smithfield Bounce House Rentals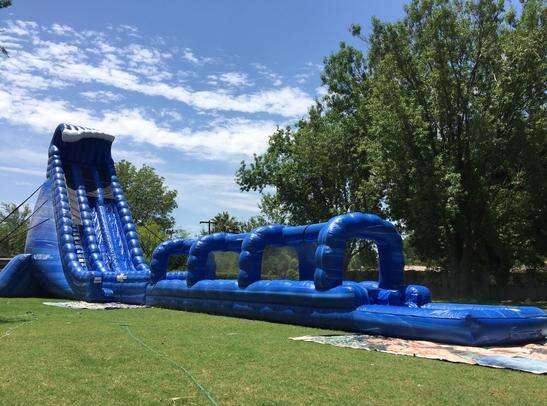 For many years, we have been providing the best service for bounce houses in Smithfield and any other inflatable house rentals in the Smithfield area. Our category of inflatable houses is always changing with the latest and most popular themes and designs so it never gets old! We make sure we rotate our options of bouncy houses in Smithfield to provide new options to choose from for the kids and even parents. For us, it doesn't matter the type of event or party because we always have the best fit for what you need. Contact us and we'll talk about which Smithfield
bounce house rental
is the right choice for the kids at the party and party size.
My Cousin Vinny's is a locally owned and operated company in Smithfield, Rhode Island, and don't forget that we're fully insured and licensed. Whenever you're looking for bouncy houses in Smithfield, make sure you call us as everyone else does in the area! If there is one promise we can keep with you, you can rest easy knowing our staff of professional delivery crews will take care of you, stress-free, from the moment that they drop off and set the bouncy house, all the way from the moment they pack everything up.
We take great pride in providing the highest quality bounce house in Smithfield we have to offer for your events and parties. You also don't have to worry about some nasty-looking unit at your event because as we mentioned before we sanitize and clean all of our equipment before and after they're rented. Some people think that our bounce house rentals in Smithfield aren't the cheapest, but we offer competitive pricing because of the amount of customer service that we provide and the extra procedures we have to go through. All of our clients and customers love us for their Smithfield bounce house rentals because they know that we're the best in the area and we always deliver what they're asking for!
Bringing Excitement With Smithfield Bounce House Rentals
It always brings us joy that we know that we bring the most excitement to kids with our Smithfield bounce house rentals. Don't forget that we deliver not only to residential homes all around RI, but we also deliver our party rentals in Smithfield to local churches, schools, businesses, and more! Just make sure to check out any regulations and restrictions in your space before renting a bounce house rental in Smithfield with us!

There's been plenty of school field days throughout the years that have rented our bounce house Smithfield rentals. All we know is that the kids go crazy when they see our inflatable house units getting set up because they know that they're going to have fun for hours! It doesn't matter if it's a church event or a school event, all of our customers are satisfied because while the kids are busy, the adults get to spend time with each other. It'll never matter the size or event or the location because we serve and cater to anyone, anywhere! Give us a call whenever you're planning on the next party!
Weather Concerns and Policies in Smithfield, Rhode Island
We know how unpredictable the
weather
is on the east coast, it can really ruin your party plans. At My Cousin Vinny's Rentals, we make sure that every one of our customers has an opportunity to experience their time with our bounce house party rentals in Smithfield. If for some reason the weather ruins your event plans, please give us a call before we arrive and we'll give you a rain check that is usable for the entire year! If you're looking for specific weather conditions that we tend to avoid, they include any amount of lightning, winds going faster than 15 mph or more, freezing temperatures, and heavy rains because they can damage our equipment or even make slick conditions that won't make it safe for the kids.
You're in luck! Scheduling your next bounce house rentals in Smithfield is just a few steps away! Our website is very easy to navigate and very user-friendly for this purpose. Just take a look around our categories and choose any of our bounce house rentals in Smithfield. Don't forget that we always have new and exciting items and products arriving all the time so many are sure to scroll our website and check out some of the newest and exciting bounce houses Smithfield has to offer!

Our automated software will always send you confirmation emails for your party and a receipt for the amount you deposited. We'll also send reminders and tips to make sure the process of everything a few days leading up to your event. If for any reason you'd want to add any more items to your party like tables, tents, and chairs to your bounce house rental in Smithfield, just let us know and we'll take care of it for you!
Our Service Area
We Proudly offer clean, on time delivery to the following areas:
Johnston
North Providence
Cranston
Lincoln
Smithfield
Barrington
Providence
Scituate
Bristol
Coventry
North Smithfield
Is your event outside of our listed area? Contact Us below as we frequently deliver to events farther out and sometimes special accommodations can be made.
NOTE: Extra fees may vary depending on how far you are outside our service area
Other Great Companies Across The Country:
Bounce Above (Mississippi), Bounce Universe (Texas), Bouncing Fun Factory (Florida), Bounce House Atlanta (Georgia), Bounce My House (Illinois), Texas Jump N Splash (Texas),
United Inflatable Rides (Pennsylvania), Oahu Jump Party Rentals (Hawaii), Roman's Party Rentals (California), The Big Bounce Theory (Canada), My Cousin Vinnys Rentals (Rhode Island)
Party Rental Optimization By: Event Hawk